Our Veterinarians
The Oak Pointe Veterinary Care team of skilled veterinarians welcomes you to our practice. Proudly serving the Dover area, at Oak Pointe Veterinary Care, it is our daily privilege to provide quality vet care to your cherished pet, with compassion and competence. We hope to ensure a positive impact on our patients, pet owners and the local community.
Dr. Mike Brothers
Dr. Mike Brothers came to Oak Pointe Veterinary Care in 2014 after working in a mixed animal practice in Seneca County, Ohio since 2000. He received his undergraduate degree from the University of Kentucky in 1994 and graduated from The Ohio State University College of Veterinary Medicine in 2000.
Dr. Mike built a reputation as a progressive, preventative medicine-oriented veterinarian. He has a strong interest in small animal skin disease, feline medicine, reptiles and pocket pets.
He and his wife, Julie, have 3 kids and share their house with 3 dogs, 3 cats, and 3 boa constrictors. Dr. Brothers enjoys trail running, playing & coaching soccer, camping, and reading a good book.
Dr. Dale Covy
Dr. Dale Covy has cared for animals in Tuscarawas County since 1987. He is an honors graduate of the College of Veterinary Medicine at Michigan State University.
Upon graduation, Dr. Covy was drawn to the Tuscarawas Valley by its family orientated community and his desire to work in a mixed practice.
In 1995 Dr. Covy opened Oak Pointe Veterinary Care. His goal was and still is to provide high quality animal care to individuals who consider their pet's as part of their family. Dr. Covy has been a faculty member at Kent State University, in the veterinary technician program and was recipient of the Part-time Distinguished Teaching Award. 
He and his wife, Anne, have 2 grown children. They now share their home with Luna, a Border Collie mix.
He is an active member of the YMCA and former member of Dover Rotary. His interests include running, biking, kayaking, and reading.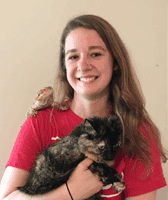 Dr. Abby Wittig
Dr. Abby Wittig graduated from the Ohio State University College of Veterinary Medicine in 2017 then began her veterinary career at Oak Pointe Veterinary Care. She has special interests in surgery and in exotic animal medicine and enjoys getting to know her clients while caring for their pets.
Dr. Abby and her husband Eric share a home with their bearded dragon Iggy and two cats named Attila and Sharona. Abby enjoys hiking and camping with family, knitting, reading, and baking.